A visual celebration of one of the most loved genres in gaming history, The Art of Point-and-Click Adventure Games is a sumptuous 460 page, hardback coffee table book packed with the very best pixel art and classic scenes from the most defining games of this genre.
It total, The Art of Point-and-Click Adventure Games also contains over 50 extensive and exclusive interviews with the key developers, designers and artists behind some of the most beloved games and characters in the history of the medium such as Al Lowe, Éric Chahi, Ron Gilbert and Tim Schafer.
The Art of Point-and-Click Adventure Games starts with a foreword by Gary Whitta (PC Gamer magazine/Rogue One: A Star Wars Story) and is followed by a detailed written history of the Point-and-Click genre.

Just some of the classic titles featured are King's Quest, Myst, Toonstruck, Discworld, Blade Runner, Gabriel Knight, Flight of the Amazon Queen, Simon the Sorcerer and of course other classics, such as The Secret of Monkey Island, The Dig, Maniac Mansion and Full Throttle. All of the most famous and iconic point-and-click adventures are covered, as well as some lesser-known games and home-brew efforts.

Book specifications
500 pages, 210mm x 260mm, Lithographic print, Silver foil blocked cover, Hardback, Sewn binding, Bookmark ribbon, Shrink wrapped.
Book version
This is the second edition of The Art of Point-and-Click Adventure Games. Latest version includes an additional 40 pages. Inclusion of the Quest for Glory games. Addition of interviews with Ken Williams and Corey/Lori Cole. Adding some of the recent indie releases such as Whispers of a Machine and Unavowed.
Contributor's include
Al Lowe, Aric Wilmunder, Billy Allison, Brian Moriarty, Charles Cecil, Collette Michaud, Dave Gibbons, David Bishop, David Fox, Douglas Crockford, Éric Chahi, Gary Winnick, Gregg Barnett, Hal Barwood, Jacob Janerka, Jakub Dvorský, James Dollar, Jane Jensen, Jay Tholen, Jeff Stephenson, John Passfield, Jim Walls, Josh Mandel, Louis Castle, Mark Ferrari, Natalia Figueroa, Neil Dodwell, Noah Falstein, Oliver Franzke , Oliver Lindau, Patrik Spacek, Paul Conway, Paul Cuisset, Pierre Gilhodes, Richard Hare, Robert Lindsley, Robyn Miller, Rolf Mohr, Ron Gilbert, Shawn Sharp, Simon Woodroffe, Stefan Srb, Steve Stamatiadis, Tim Schafer and William Tiller.
Customer Reviews
Write a Review
Ask a Question
Filter Reviews:
games
content
love
quality
books
images
interviews
packaging
memories
adventure games
01/10/2020
Joni R.
Finland
Great!
Top notch! I already had the NES and SNES compendiums and this was a nice addition.
01/09/2020
Samy M.
Finland
Perfect product
Content is amazing and well curated. It is exactly the material I wanted to see in a book like this. One small ****** is that I would have preferred the book to proceed strictly chronologically, but the interviews interspersed throughout the book put sometimes anachronistic images where they would have been better served later in the book. Production values amazing, very solid feeling book with great heft and binding, a pleasure to read.
BB
01/03/2020
Birgitte B.
Sweden
Speedy delivery of beautiful book!
The book was delivered within few days. It was carefully packed and arrived in perfect condition. The book itself is beautiful!
12/31/2019
Nikolas L.
Greece
The Point & Click Bible
Maybe, I'm a bit biased since I'm a point and click adventure creator myself but I find this book to be the best of all Bitmap books. It's simply something more than a book. It's the bible of the genre. The book is massive! Truly massive! The interviews are so great and there's a fine balance between text and images. Having said that. Please, Bitmap books, create a series of books similar to the Metal Slug one, focused on specific adventure game series such as Monkey Island, Quest for Glory, etc. That would be great.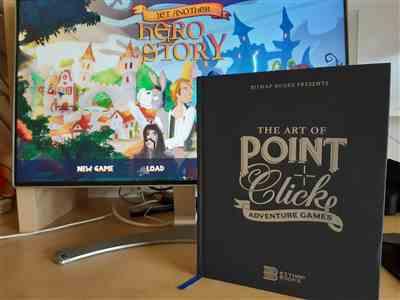 12/22/2019
Andrew C.
United States
Love the book!
I've been an adventure gaming nerd since I had some relatives give me pirated copies of games like Space Quest, Police Quest, etc.., for my very first 8086 when I was ten, and was immediately hooked. This book is *really* well done, and is worth it for any P&C adventure game fame like I am.