Invented by Sir Clive Sinclair, the successor to the ZX80 and ZX81 home computers would come to define an age of video gaming, with a range of games as quirky and eccentric as the computer that inspired them.
Re-live the glory days of the Spectrum with this collection of over 100 classic games. Starting with early titles such as The Hobbit, Hungry Horace and Psion's Flight Simulation, we trace the lineage of the Spectrum through iconic titles including Manic Miner, Harrier Attack, Elite, Jetpac, Deus Ex Machina, The Lords of Midnight, Knight Lore and Head Over Heels. 
Each game is represented by a selected screenshot or loading page, printed full-bleed on high-quality paper and, for the first time in a Visual Compendium, using special fluorescent inks to capture the vibrant look of ZX Spectrum palette.
Accompanying the iconic imagery is a wealth of anecdotes and reminiscences from the artists and developers that made the games, with quotes from the Stamper Brothers, Dave Perry, Bo Jangeborg, the Oliver Twins, Matthew Smith, Dawn Drake, Andrew Hewson and many more. The book also features interviews with key artists and profiles of the major games publishers, plus a look at the Russian and Eastern Bloc clone market and homebrew scene, which still produces new ZX Spectrum games to this day!
At 304 pages long, Sinclair ZX Spectrum: a visual compendium comes as a hardback edition, with a spot-varnished dust cover. So if you cut your gaming teeth on this quintessentially British computer, grab a copy of this visual compendium and take a glorious, garish, character-clashing step back in time.
Book specifications
304 Pages, 170mm x 230mm, Lithographic print, Sewn binding, Special Pantone inks, Spot varnish cover, Spot varnish dust jacket.

Full contributor list

Neil Adamson, Jas Austin, Jim Bagley, Gregg Barnett, Brian Beuken, Matt Bielby, Steve Brown, Nick Bruty, Simon Butler, Robin Candy, Tim Closs, Andy Craven, Mel Croucher, Jonathan Davies, Rick Dickinson, Tony Dillon, Mevlut Dinc, Dawn Drake, Mark Eyles, Jason Falcus, Oliver Frey, Alberto J. González, Chris Graham, Bill Harbison, Peter Harrap, John Heap, Andrew Hewson, Chris Hinsley, Robin Hogg, Teoman Irmak, Bo Jangeborg, Steve Jarratt, Chris Jenkins, Colin Jones, David Jones, Mark R. Jones, Roger Kean, James Leach, Richard Leinfellner, Adrian Ludley, Steinar Lund, Veronika Megler, Shaun G. McClure,  Ray Owen, Bob Pape, David Perry, Ste Pickford, Mike Richardson, Andy Roberts, Nick Roberts, David Rowe, Phil South, Bill Scolding, Matthew Smith, Craig Stevenson, The Oliver Twins, The Stamper Brothers, Kevin Toms, Steve Turner, Clive Townsend, Keith Warrington, Steve Wetherill, Robert White, Pete Williamson.
Customer Reviews
Write a Review
Ask a Question
Filter Reviews:
games
love
quality
care
artwork
pictures
memories
spectrum
08/03/2020
J-F D.
Canada
I recommend this product
Another amazing book!
If you played the ZX Spectrum back in the day and love the game that it have to offer, you NEED to look at this jewel. It is the coolest dedicated Nostalgia to the ZX spectrum you never have. The book is really well designed and the quality of these books never cease to amazed me. A must have for every ZX Spectrum lover.
08/01/2020
Oscar A.
Mexico
I recommend this product
Magnificient book
Was a first class shipping and very fast, also their customer service. That security and trust has led me to purchase several Bitmap Books publications over the past months and have been a relief to pass my isolation during the pandemic. The book is wonderful as well as the quality of the printing, it brings you into the era of the system and is edited with great care. 100% recommendable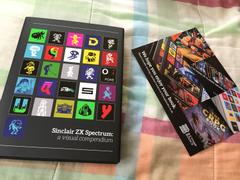 07/14/2020
Martin B.
Sweden
I recommend this product
A sheer delight!
Utterly gorgeous and obviously a labour of love. A real comfort blanket of a book which makes you yearn for the old speccy days. Deserving of a second volume!
JT
07/12/2020
Jason T.
United Kingdom
I recommend this product
Fantastic Book
This took me right back to the those heady, eighties evenings and weekends, plonked in front of my Various Spectrums playing game after game. A beautifully illustrated book with lots of big bold pages and snippets from the peole who worked in all thos great games. Strangely I especially like the red, yellow, green and blue page markers. I take a lot of care making sure they dont get all creased up when I put the book down.
07/10/2020
Richard C.
United Kingdom
I recommend this product
The Definitive Spectrum Retrospective
As someone who grew up with the Spectrum I've always maintained my love for this squishy box of tricks, and have read a lot of books and magazines about it over the years, but nothing has come close to the quality of the words, pictures and physical product of this book! It's the perfect size, the pages are glossy and clear, the writing and interviews are top notch, and the attention to detail in all aspects of this are second to none, right down to the four sewn in bookmarks in the four spectrum colours. This is my first Bitmap Books purchase, and I fear my wallet is about to take a serious hammering in picking up more of their excellent work on other systems and topics. I can't recommend this book enough!