Bitmap Books is proud to present yet another retrogaming title, The Unofficial SNES Pixel Book. Created in collaboration with German publisher Elektrospieler this lavish, 272-page volume celebrates the golden age of 16-bit gaming on Nintendo's ultra-popular home console.
The book, which has been painstakingly translated from the original German text, features in-depth articles exploring the major genres to be found in the SNES's huge portfolio of games. These are accompanied by tens of thousands of screenshots, specially taken, composed and selected for this volume, comprising a combination of single images, cut-outs, sprawling montages and gigantic level maps.
So, whether as a colossal spaceship, multi-screen boss monster, giant fortress, or comprehensive level overview, you can admire your favourite games and characters in ways rarely seen before. The book features a huge number of titles, from obscure oddities to the biggest classics, including Street Fighter II, Super Mario World, Super Castlevania IV, Axelay, Chrono Trigger, The Legend of Zelda: A Link to the Past and Final Fantasy VI – all beautifully presented and preserved for eternity.
The many games have been grouped by genre, alongside thoughtful and fascinating insights into the evolution of genres and design trends, and their impact on today's video game landscape. Overall, the project represents the culmination of many years' work by its authors, Robert Bannert and Christine Bauer, and translator Thomas Nickel.
The book is offered in hardback with a spot-varnished protective slipcase, and is produced to Bitmap Books' usual superlative standards.
Book specifications
272 pages. 250mm × 250mm. Spot-varnished 3mm protective board slipcase. Spot-varnished cover. Edge-to-edge high quality lithographic print. Hardback. Sewn binding for enduring quality and the ability to lay flat for ideal double-page image viewing. Shrink-wrapped. Free PDF for viewing on the go.
Games featured include:
The 7th Saga / ActRaiser / ActRaiser 2 / Another World (Out of this World) / Arcana / Art of Fighting / Axelay / Bahamut Lagoon / Bass Masters Classic / Bassin's Black Bass / Battletoads in Battlemaniacs / Breath of Fire / Breath of Fire 2 / Bust-a-Move (Puzzle Bobble) / Castlevania: Vampire's Kiss / Chrono Trigger / Clay Fighter / Contra 3: The Alien Wars (Super Probotector) / Cool Spot / Cybernator / Demon's Crest / Disney's Aladdin / Disney's The Jungle Book / Donkey Kong Country / Dragon Quest 6 / Dungeon Master / E.V.O.: Search for Eden / Earthbound / Earthworm Jim / Equinox / Extra Innings / Eye of the Beholder / F-Zero / Fatal Fury Special / Final Fantasy 2 / Final Fantasy 3 / Final Fight 2 / Fire Emblem: Mystery of the Emblem / Flashback: The Quest for Identity / The Flintstones: The Treasure of Sierra Madrock / Front Mission / Gradius 3 / Hagane / Harvest Moon / Illusion of Time / Indiana Jones' Greatest Adventures / Ken Griffey Jr. Presents Major League Baseball / Kid Clown in Crazy Chase / Killer Instinct / The King of Dragons / Kirby Super Star / Kirby's Dream Land 3 / Knights of the Round / The Legend of the Mystical Ninja / The Legend of Zelda / The Lion King / Looney Tunes B-Ball / The Lost Vikings / Lufia & the Fortress of Doom / The Magical Quest Starring Mickey Mouse / Mario Paint / MechWarrior / Mega Man Soccer / Mega Man X / Metal Warriors / Micro Machines / NBA Jam / Ogre Battle / Paladin's Quest / Parodius / Pilotwings / Pinocchio / Pitfall: The Mayan Adventure / Pocky & Rocky / Populous / Pop'n TwinBee / R-Type 3: The Third Lightning / Rock n' Roll Racing / Samurai Shodown / The Secret of Evermore / Secret of Mana / Sensible Soccer / Shadowrun / Sim City / Smash Tennis / Soldiers of Fortune (The Chaos Engine) / Soul Blazer / Star Fox (Star Wing) / Street Fighter 2 / Street Fighter 2 Turbo / Stunt Race FX / Super Aleste (Space Megaforce) / Super Bomberman / Super Castlevania 4 / Super Ghouls 'n Ghosts / Super Mario All-Stars / Super Mario Kart / Super Mario RPG / Super Mario World / Super Mario World 2: Yoshi's Island / Super Metroid / Super Punch-Out!! / Super Soccer / Super Star Wars (Trilogy) / Super Street Fighter 2 / Super Tennis / Super Turrican / Tecmo Super Bowl 3: Final Edition / Teenage Mutant Ninja Turtles: Turtles in Time / Terranigma / Tetris & Dr. Mario / Tetris Attack / Tiny Toon Adventures: Buster Busts Loose! / Tiny Toon Adventures: Wacky Sports Challenge / Wario's Woods / Wild Guns / Wing Commander / Wizardry 5: Heart of the Maelstrom / Yoshi's Safari / Young Merlin / Zombies Ate My Neighbors
Customer Reviews
Write a Review
Ask a Question
Filter Reviews:
SNES
delivery
games
pixel art
love
content
Bitmap
company
terms
collection
11/20/2020
Daniel C.
Romania
I recommend this product
The SNES Pixel Book
Amazing book
10/13/2020
Serhiy K.
United Kingdom
I recommend this product
A Treasure Chest of Pixel Glory
I'm an aspiring pixel artist and this book is a huge source of inspiration. I grew up playing mostly SNES games, fell in love with the pixel graphics and that's what I'm trying to emulate with my art -- the feel those wonderfully crafted images gave you. You've seen the photos and video reviews -- they don't lie, the book is glorious in all aspects! I'll still point out a few things. The paper is very interesting -- it's glossy but matte at the same time and slightly, but pleasantly coarse to the feel. The packaging is the best I've seen -- the company really makes sure you get their books intact. All in all, I'm happy with the purchase and will be back for more!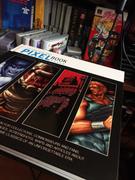 10/08/2020
Jordi S.
United States
I recommend this product
Great presentation
The book is great. I just found a couple typos in some pages, but in general the information contained is exact and the presentation is gorgeous all the way from the physical quality to the contents and illustrations. A clear superstar product. I also want to congratulate Bitmap Books for the absolutely fantastic packaging. I even felt tempted to keep it!
JL
10/01/2020
Josh L.
United States
I recommend this product
Beautifully Produced
Vibrant art, crisp pages and fun anecdotes.
09/28/2020
Giordano G.
Italy
I recommend this product
Perfect product
The SNES Pixel Book is the perfect product for people in love with retrogaming, pixel art or classic SNES games; it provides great shots from the past with a very good amount of text recreating the story of many genres. The book's quality is amazing and is packaged very well in order to nullify any damage during the shipping.