It wasn't easy being a Nintendo fan in the early 90s: the wonderful Super Famicom was released in Europe as the Super Nintendo Entertainment System, but it was hobbled by a bordered, 50Hz image and delayed release schedule. True Nintendo fans got hold of a Japanese console and bought their games on the grey import market.
As well as the benefits of faster, smoother, full-screen gameplay, Japanese Super Famicom cartridges came in beautiful portrait-shaped boxes, rather than the landscape packaging sold in Europe and North America. The stylish, intricate Japanese designs were almost always superior to that afforded the western releases.
As a celebration of this unique artwork, Bitmap Books is proud to present Super Famicom: The Box Art Collection – a compilation of Japanese game packaging, professionally shot and presented as a glorious hardback edition. The book features around 250 titles, including many rare examples and some that have never before been documented in print. Sourced from the archives of renowned collector, Stuart Brett (aka Super Famicom Guy), each box is beautifully presented life-size, with a critique of the artwork, plus interviews with other collectors, explaining their love of the format.
Super Famicom: The Box Art Collection comes in a square format book, bound in charcoal grey wibalin with a gold foil block logo and lithographically printed to the highest standards. Long-time games journalist Steve Jarratt, launch editor of Edge and Nintendo magazine Total!, will oversee the text and also write the foreword.
Super Famicom: The Box Art Collection is an unmissable treat for anyone who had a passion for Nintendo's 16-bit games console, and who came to embrace the distinctive Japanese artwork adorning these iconic games. 
Book specifications
276 page, 250mm x 250mm, Hardback, Lithographic print, Sewn binding, Charcoal Grey wibalin cover with gold foil blocked logo.
Customer Reviews
Write a Review
Ask a Question
Filter Reviews:
games
Bitmap
content
delivery
SNES
box art
copy
illustrations
Super Famicom
09/01/2020
Benny B.
France
I recommend this product
Encore un superbe bouquin de Bitmap Book!
Bitmap Books ne déçoit jamais. Leurs livres sont de très beaux objets, superbement finis. J'en possède actuellement cinq: Le Arcade est en format italien et fait un showcase sur les frontons de bornes. Le Super Famicom Box Art Collection est essentiel à ceux qui connaissent la différence entre les Artbox *** et euro/US. Le History of Point n Click est superbe, avec des interview tres interessantes. Il est construit de manière chronologique. Le Neo Geo est juste sublime, grand format, avec enormement de artwork. Le Snes Pixel book est une lettre d'amour aux pixel art de la 16-bit de nintendo. À l'heure que j'ecris cette review je peux deja dire que je précommanderai le Amiga Visual Compendium, et celui sur les Artbox Gameboy.
08/27/2020
jungmin p.
South Korea
I recommend this product
Super !
Nice packaging and content ! Very Recommended !
08/23/2020
Steven B.
United States
I recommend this product
Gorgeous!
Fantastic product, gorgeous images, super well written, perfect packaging to prevent damage.
08/01/2020
Oscar A.
Mexico
Indispensable for videogame book collectors
With this wonderful book I complete the SNES trilogy that Bitmap Books has published. Excellent quality as always and a wonderful customer service, the order was dispatched in the same day of my purchase and was arriving to Mexico in 5 days. The books come perfectly packed with branded material from the publisher that is is painful have to break. I am very happy with my purchase!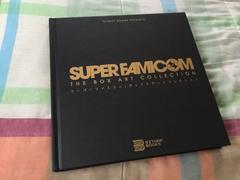 07/22/2020
Chris
Malaysia
Gives a wonderful look at the Japanese artwork for SNES
The SNES was the Nintendo console of my childhood, with countless hours playing Mario Kart and Street Fighter II, to name a few. The SNES is one of my all time favourite consoles and this book was a must have for me. Being a kid growing up in the early 90s, there wasn't the internet, or even access to see what other regions got in terms of games. This book absolutely scratches that itch, giving you full access to all Japanese SNES box art to compare and marvel at the beautiful artwork. I came across Bitmap books thanks to Happy Console Gamer's Youtube channel and his feature/review of this book, along with the SNES pixel book and having picked up these books, I can't thank Bitmap enough for making these tomes of nostalgia and wonderment! Worth every penny!