For a brief few years in the early 1990s, the NEOGEO was the pinnacle of video gaming. An elite, exclusive console that didn't just emulate the arcade experience – as so many 8 and 16-bit consoles tried to do – it was the arcade experience, pixel for pixel on your TV at home. Born in the days before polygons, the NEOGEO was a staunchly 2D system that gave birth to some of gaming's most iconic franchises such as Fatal Fury, THE KING OF FIGHTERS, Samurai Shodown and of course Metal Slug. 
NEOGEO: a visual history is the first officially licensed NEOGEO art book of its kind released in the English language available here at Bitmap Books. A visual celebration of all things NEOGEO, it's crammed full of beautiful visuals split into dedicated chapters, including Hardware, Box Art, Character and Concept Art and Pixel Art. The imagery has been collated and photographed the from all over the world, which has been handpicked to appear in this unique and exclusive volume. NEOGEO: a visual history also features official interviews with key staff integral to the NEOGEO's history, including producer Yasuyuki Oda, artist Tatsuhiko Kanaoka (Falcoon) and composer Hideki Asanaka (sha-v).
The book weighs in at a healthy 400 pages in length, A4 in size and available in hardback only. Metallic gold ink is used throughout and the binding employs thread rather than glue, so it will be much more durable and can open flat, minimising imagery lost in the binding. Produced using the very best in print techniques, it will happily grace any gamer's coffee table.
NEOGEO: a visual history promises to be a real collector's item for all fans of the NEOGEO system and of classic gaming in general. It provides a fascinating insight into the world of the mystical NEOGEO console – something that was so unobtainable for many of us back in the '90s.
Book specifications
400 pages, 210mm x 297mm, Metallic gold ink used throughout, Lithographic print, Hardback, Sewn binding, Gold foil blocked cover and spine, shrink wrapped.

©SNK CORPORATION ALL RIGHTS RESERVED.
Customer Reviews
08/30/2019
Jamie R.
Ireland
This book is jaw-dropping
I am extremely happy with this stunning book. The images are excellent and the quality of the paper is very high. It was also packaged beautifully! I cannot believe how cheap this book is given the quality - will buy from Bit Map Books again!
08/04/2019
Nicolas M.
France
Superbe
très beau livre, indispensable pour les fans de NeoGeo, j'ai hâte de pouvoir commander celui sur MetalSlug
08/03/2019
Raul C.
Italy
Perfetto.
Spedizione con protezione perfetta. Loro sanno che questi libri rientrano nella collezione personale di ognuno di noi ed è per questo che hanno prestato la massima cura affinché arrivasse come era partito. Sono contento del contenuto, ha soddisfatto le mie aspettative.
06/23/2019
Mr D.
United Kingdom
Essential purchase for Neo Geo fans and all retro gamers.
Beautifully illustrated pictorial of an iconic games machine and it's variations. Few people will be lucky enough to experience this classic machine and it's software in person. So this is highly recommended for those of us that have or even just the curious. I'd also recommend it to any gamer with even a passing interest in retro arcade, home and handheld consoles. This is my first buy from Bitmap and I look forward to seeing more of these beautiful and concise books.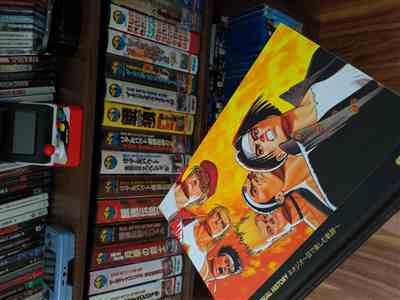 06/19/2019
Joris G.
France