"Holy cow! The book is incredible!! It's a very impressive and beautiful book full of info and pics for fans and collectors." Jim Fong – ex-design director at Galoob

Introduced by the fast-talking Micro Machines Man of the TV commercials, Micro but Many: an unofficial Micro Machines collection features over 1,000 beautifully photographed Micro Machines – the must-have miniature cars of our misspent youth.
This book is a rare collection of the most loved Micro Machines from the 1980s, 1990s and beyond – including some never before seen! Curated by collectors and the original Micro Machines designers over six sections, Micro but Many is a nostalgic, visual showroom for one man's toy car collection. Take a spin down memory lane in a race car, plane, tank, truck, motorbike, boat or even the Lunar Rover – all are included, with detailed photography and stats. The book also provides an under-the-hood look at how these diminutive wonders were created, showing off prototypes and unreleased vehicles as well as insights and anecdotes from the original Micro Machines designers.

Whether it's a unique European car such as the Aston Martin DB5 or an awesome American car like the Ford '64 Mustang or even a cool classic like the Bugatti '27 Type 41 Royale, you're sure to find your favourite car in this book. Or maybe you're more of a plane fan, or a military whiz, or a train spotter - you'll find what you're looking for here regardless.

Micro but Many comes with an animated lenticular 'Ultra Movers' cover, holographic foil blocked pages and four colourful bookmark ribbons. Micro but Many: an unofficial Micro Machines collection is sure to appeal to children of the 80s and 90s, auto enthusiasts and Micro Machines fans alike.

Each book directly ordered from Bitmap Books also comes with a foiled bookmark and a 'shiny' logo sticker.

Book specifications
400 pages, 148mm x 210mm. Lithographic print. Hardback. Sewn binding. Four coloured bookmark ribbons. Holographic foil details inside. Lenticular animated cover fascia. Holographic foil sticker on fascia. Shrink wrapped.
Micro Machines in photos are not included!
Customer Reviews
Write a Review
Ask a Question
Filter Reviews:
Bitmap
content
collection
detail
photos
history
pictures
cover
many
photography
09/06/2020
Alexis M.
United States
I recommend this product
Micro but Many
This book goes deep into miniatures I hadn't known existed. Really brings back these little cars in a new light. Very informative as well!
09/03/2020
Dave G.
United Kingdom
I recommend this product
Great experience great book
Thanks for such an easy and communicative buying experience, great job
08/29/2020
James B.
United States
I recommend this product
Amazing book!
This is an amazing book filled with tons of great images and stories about every child of the 80's/90's favorite little toy cars. I can't recommend this book enough to anyone that had or has a collection of micro machines still in their closet. Get it today and read it faster than the Micro Machine guy can say "Remember, if it doesn't say Micro Machines, it's not the real thing"
08/29/2020
James O.
United Kingdom
I recommend this product
Excellent book but lacking for what I wanted
Incredible presentation and i love the size (Micro indeed!) it was delivered promptly in great padded packing and I simply love the lenticular cover and appreciate the included goodies like stickers and themed bookmark, its a comprehensive collection of source material, information and high definition photos of Micro Machines from the 80's till the late 90's and a look into Galoob and partially Hasbro's history with the franchise, however the only thing stopping me from giving his 5 stars is the lack of information on the early to mid 2000's Micro Machines models, which are some of my favorites, would be nice to get a complete check list of vintage all the way to most present some day.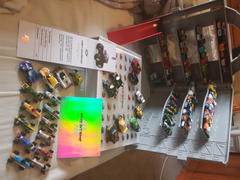 08/28/2020
Patrícia M.
Portugal
I recommend this product
A very good overview
The quality of the content and the graphics it's amazing. It is a lovely book to remember these little machines.