Metal Slug: The Ultimate History is the first officially-licensed book to document the lineage of one of gaming's most beloved franchises.

An instant classic on its debut in 1996, the original Metal Slug laid the foundations for an action-packed series that would become globally renowned for its tight gameplay, gorgeous hand-drawn visuals and playful sense of humour. The franchise has effortlessly retained these core attributes across multiple sequels and spin-offs in the years since, and this publication – the first officially-licensed and fully-endorsed book of its kind, ever – not only aims to illuminate the rich history of the franchise via hundreds of carefully curated screenshots and a comprehensive written account of its often mysterious history, but also seeks to celebrate the iconic artwork which has made millions of players fall in love with the antics of the plucky Peregrine Falcon Squad.
To help achieve this goal, SNK has offered unprecedented access to its vast archive of high-resolution concept artwork and illustrations, some of which is being made publicly available for the first time. The book also contains 11 exclusive and incredibly detailed interviews with key members of the development team, including Kazuma Kujo, Takushi Hiyamuta, Andoh Kenji and Takeshi Okui, the latter two of whom have never previously spoken about the series. These insightful discussions bust myths and reveal the real truth behind the creation and evolution of this esteemed franchise, extensively covering its beginnings at Nazca and the truth behind Metal Slug Zero – the version of Metal Slug that existed, before Marco and Tarma, when you controlled only the SV-001 tank. The book also explores the roots of Metal Slug, looking at Irem titles In the Hunt and GunForce II and how these arcade cult classics influenced what was to come later.
Book specifications
452 pages. 210mm × 297mm. Edge-to-edge high quality lithographic print. Special Pantone ink used throughout. Hardback. Sewn binding for enduring quality and the ability to lay flat for ideal double-page image viewing. Black foil-blocked cover and spine. Bookmark ribbon. Shrink-wrapped. 
Includes interviews with:
Shinichi Hamada, Takushi Hiyamuta, Andoh Kenji, Kazuma Kujo, Atsushi Kurooka, Hidenari Mamoto, Sadaki Matsumoto, Takeshi Okui, Kazuhiro Takeshita, TONKO and Toshikazu Tanaka.
Games featured include:
GunForce II / In the Hunt / Metal Slug 1st Mission / Metal Slug 2: Super Vehicle-001/II / Metal Slug 2nd Mission / Metal Slug 3 / Metal Slug 3D / Metal Slug 4 / Metal Slug 5 / Metal Slug 6 / Metal Slug 7 / Metal Slug Advance / Metal Slug X / Metal Slug: Super Vehicle-001
©SNK CORPORATION ALL RIGHTS RESERVED.
Customer Reviews
Write a Review
Ask a Question
Filter Reviews:
Metal Slug
series
history
pages
detail
content
fans
artwork
information
delivery
10/24/2020
Jon H.
United States
I recommend this product
Endless source of inspiration!
A beautiful 500 page tome - the ultimate Metal Slug reference book!
10/23/2020
Lorys N.
France
I recommend this product
Magnifique
Incredible detail and artwork
10/20/2020
Xavier R.
Spain
I recommend this product
Astonishing
WOW Fast delivery and best packaging for a book seen in years, and the book itself marvelous, I buy more from you Bitmap :) Increíble, un empaquetado espectacular con todos los cantos del libro ultra protegidos con espuma, además del libro precintado, un verdadero placer sólo el empaquetado, y respecto al libro una encuadernación impecable, una maravilla, volveré a comprar aquí en Bitmap, han ganado un cliente habitual. Así da gusto gastarse el dinero.
10/20/2020
Cutter H.
United States
I recommend this product
Absolutely amazing on all fronts
Out of all the video game art books I own, this one is the best hands down. First of all, I feel like stole the book at it's current price. It's fantastically crafted with amazing high quality prints, and unprecedented feel. Filled with beautiful Metal Slug art and history I was unaware of. Oddly the best part was how it was shipped, shrink wrapped (okay pretty normal), with a foam sleeve around it (better than Amazon, alright), with thick foam corner blocks to protect the book in transit secured in a box that didn't let the book rattle around!!! That's next level! Thank you for taking your product seriously!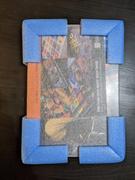 10/09/2020
Jeffrey S.
United States
I recommend this product
Really Beautiful Book And Excellent Customer Service
If you are a fan of Metal Slug, Neo Geo, or simply beautiful games, I think this book is a must have. As you leaf through the contents it is clear that this was a labor of love and very fairly priced vs. other art books. Customer service was also spectacular. Because of shipping the book arrived with a damaged spine, and they got me a second copy pretty soon after so that it can be displayed proudly as part of my collection and for others to peruse.