"This is one of the highest quality and most beautiful collections of retro game images ever compiled.  More important than the imagery (at least in my opinion) I find it to be factually precise, recording the stories and history from those days with an accuracy seldom seen." David Crane – game designer and co-founder of Activision
"The presentation is just amazing; the imagery, the depth of content from the designers/developers, the very cool lenticular cover, the protective sleeve. Just WOW." Garry Kitchen – game designer and co-founder of Activision
"The book looks incredible! So much detail and work went into this." Bob DeCrescenzo – game designer and programmer


Atari's early tenure as the video game industry's leading light oversaw seismic change in what was still a very young and evolving sector. Not only was Atari's VCS/2600 system the first piece of gaming equipment to truly dominate the living room, it also played host to some of the most iconic titles of all time, including Asteroids, Space Invaders, Pac-Man, Defender, Joust, Pitfall!, River Raid and many, many more. 

At its height, Atari's name became synonymous with video gaming in the same way that Nintendo's would a few years later, but the company – and the industry – fell just as swiftly thanks to the infamous North American video game crash of 1983. Even when faced with this catastrophic event, Atari soldiered on and, the following year, produced the powerful 7800 console – a machine that could easily have returned the firm to its former glory, had its launch in 1984 gone to plan. 

This book aims to cover the highs and lows of what was a truly tumultuous period in video game history; an era which laid down the foundations for what has today become one of the world's most popular forms of entertainment.
Atari 2600/7800: a visual compendium aims to showcase the very best pixel art, cover art and product design on each system. Spread over 528 pages, it features over 200 classic games, with articles on the leading third-party developers, interviews with key figures in the industry and features on subjects, such as cover art, prototypes and homebrew releases. 
Book specifications
528 pages, 170mm x 230mm, 3mm protective board slipcase with lenticular fascia, Lithographic print, Hardback, Sewn binding, Spot varnish cover, Spot varnished dust jacket.
Collector's Edition
Limited to just 1,000 units, we've devised a special Collector's Edition of Atari 2600/7800: a visual compendium that comes with the hardback book, a free bookmark, A2 (594mm x 420mm) 2600 Blueprint poster, A2 (594mm x 420mm) 7800 Blueprint poster and a pack of 5 postcards – each one featuring an iconic Atari game. Note that the posters come rolled in a heavy duty tube and the postcards come within a polythene bag for protection.


Includes contributions from
Lee Actor, David Akers, Allan Alcorn, Glenn Axworthy, Dona Bailey, Rex Bradford, Nolan Bushnell, Steve Cartwright, Osman Celimli, John Champeau, Samuel Claiborn, David Crane, Bob DeCrescenzo, Joe Decuir, Alex DeMeo, David Dentt, Michael Feinstein, Hal Finney, Will Freeman, Ed Fries, Rob Fulop, Peter Gaston, David Giltinan, Steve Golson, Craig Grannell, Andrew Hayward, Matt Householder, Larry Kaplan, Ray Kassar, Michael Katz, Sam Kennedy, Dan Kitchen, Garry Kitchen, Sam Kjellman, Dennis Koble, Tim Lapetino, Jamie Lendino, Jon Leupp, David Lubar, Doug Macrae, Alan Miller, Laura Nikolich, Chuck Peavey, Julian Rignall, Warren Robinett, Keith Robinson, Perry Rodgers, John Van Ryzin, Greg Sewart, Tom Sloper, Bob Smith, Cliff Spohn, Chris Spry, Dave Staugas, Tony Takoushi, Fred Thompson, Howard Scott Warshaw, Rob Wanenchak, Bob Whitehead, Phil Wiswell, Steve Woita, Robert Workman, Vladimir Zúñiga.
©2020 Atari Interactive, Inc. Atari and the Atari logo are registered trademarks owned by Atari Interactive, Inc.  All individual Atari game names and logo are trademarks or registered trademarks of Atari Interactive, Inc. or its affiliates.  All other trademarks are the property of their respective owners.
Customer Reviews
Write a Review
Ask a Question
Filter Reviews:
games
content
compendium
information
interviews
pictures
Atari
2600/7800
2600
09/18/2020
Derek M.
United States
I recommend this product
Wonderful blast from the past
This book brought me back to my childhood, playing my Atari 2600 in the basement. Truly a must have for anyone who remembers Atari from their childhood or anyone who appreciates the history of the video game industry. This was my first purchase from Bitmap Books, but it will not be the last.
09/07/2020
Thierry C.
Switzerland
I recommend this product
Bitmap Books: A label of quality !
There is one thing you are absolutely sure when purchasing a book from Bitmap Books is that the content will be outstanding and you will enjoy every single page! On top, once ordered, you will not only receive it pretty fast but in absolutely perfect condition! They know how to pack well books where several other publishers should take Bitmap Books as an example !
WR
09/06/2020
Wade R.
United States
Incredible Quality
Probably the best retro hardcover I have ever purchased. Above and beyond the normal quality. Great product.
08/31/2020
Stuart F.
United States
Another phenomenal product from Bitmap Books
This is a great book - I read it cover to cover and thoroughly enjoyed looking at the high quality pictures and reading the accompanying interviews and articles. I did an unboxing and mini-review of the book (along with the 2nd edition of the Art of Point and Click Adventures) on my Youtube channel - check it out at https://youtu.be/eNMMszwiaKY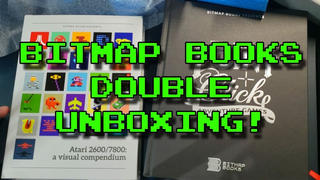 08/25/2020
dirk s.
Germany
Buy them all! ;-)
Apart from content, which is of course beyond any doubt, the book, like every book in this series, is outstandingly produced. Special colours, ribbons, slipcase. They really make sure that it is a first-class product in terms of production technology. Buy them all!